PIGGY BANK BAZAAR
At last it's Bazaar time!! All young humans are invited to come and shop for their Christmas gifts from over 5000 items. The majority of the gifts are crafty items. Children should bring along their money and their shopping lists. Guides (many of whom are Girl Scouts) are available to assist them with their selections, and to guide them to the cashiers and to the FREE gift wrapping. Younger children can be guided by their parents, and older children may shop by themselves.
The Bazaar opens at 9:00 a.m. for children; adults may shop from noon until 12:30 p.m. There are gifts for children, women, men, pets, personalized items, flower arrangements and plants, and Christmas themed gifts, with separate areas for the cashiers and gift wrapping. Our photographers are available to take photos and have them inserted into ornament frames. Waiting parents can purchase refreshments at the bake sale, provided by the Youth Group, in Fellowship Hall.
Please INVITE YOUR FRIENDS to the Bazaar, and use your email and Face Book connections to tell them about it.
If weather forces cancellation of the Bazaar on December 1st, the snow date is Sunday, December 2nd, from noon to 3:00 p.m. Information about cancellation will be on the church's phone system (845-462-0810 option #4.)
Piggy Bank Bazaar needs LOTS OF HELP, since we're expecting hundreds of young shoppers. We need many women, men and older youth to make it all run smoothly. We need many guides, because each child who needs assistance typically spends about an hour shopping. PLEASE STOP BY ON THE DAY OF THE BAZAAR and volunteer to be a guide or a gift wrapper. Also, please bring an item for the Youth Group's Bake Sale!!
SET UP will be on Friday morning, November 30th, starting at 9:00 a.m. This will involve setting up some Christmas trees, tables for the cashiers, wrapping room and Youth Group Bake Sale. We'll need lots of help for this, too.
Finally, CLEAN UP will begin at 12:30 p.m. on Saturday afternoon. This involves moving tables, sweeping floors, collecting trash, and moving the left over gifts into storage. Most of the Bazaar workers will be very tired by this time, so PLEASE VOLUNTEER TO HELP WITH CLEAN UP!
Mrs. Ray (my human friend who is VERY happy that so many of YOU are participating in the Wednesday Morning Workshops) tells me that Piggy Bank distributed $3,636.42 in donations this year, benefitting the church's property fund and new sanctuary sound system, the Youth Group, the Reformed Church in America's Gifts for Children, and the New Hackensack Nursery School playground. Piggy Bank also donated to the Sunday School, including a new CD/DVD player, TV, and portable sound system. YOUR PARTICIPATION through the year and at the Bazaar made this happen, and will let us do more in the coming year!
The Wednesday Morning Workshop folks will be taking a bit of time off after the Bazaar, resuming meetings in February. I'll be hopping around, trying to stay warm, while I wait for the BIG DAY. I hope I'll see YOU there, and at the February Workshops!
Yours in love,
Kermit
Dear Kermit,
In just a few days, we will all gather to enjoy the 43rd Annual Piggy Bank Bazaar. As our official spokesperson of the Piggy Bank News, we want to recognize you, Kermit (or as others know you as Joe Allen), for the clever way you spread the happenings of the Bazaar throughout the year. The Bazaar receives great support from your readers, so thank you for writing the monthly articles.
The Piggy Bankers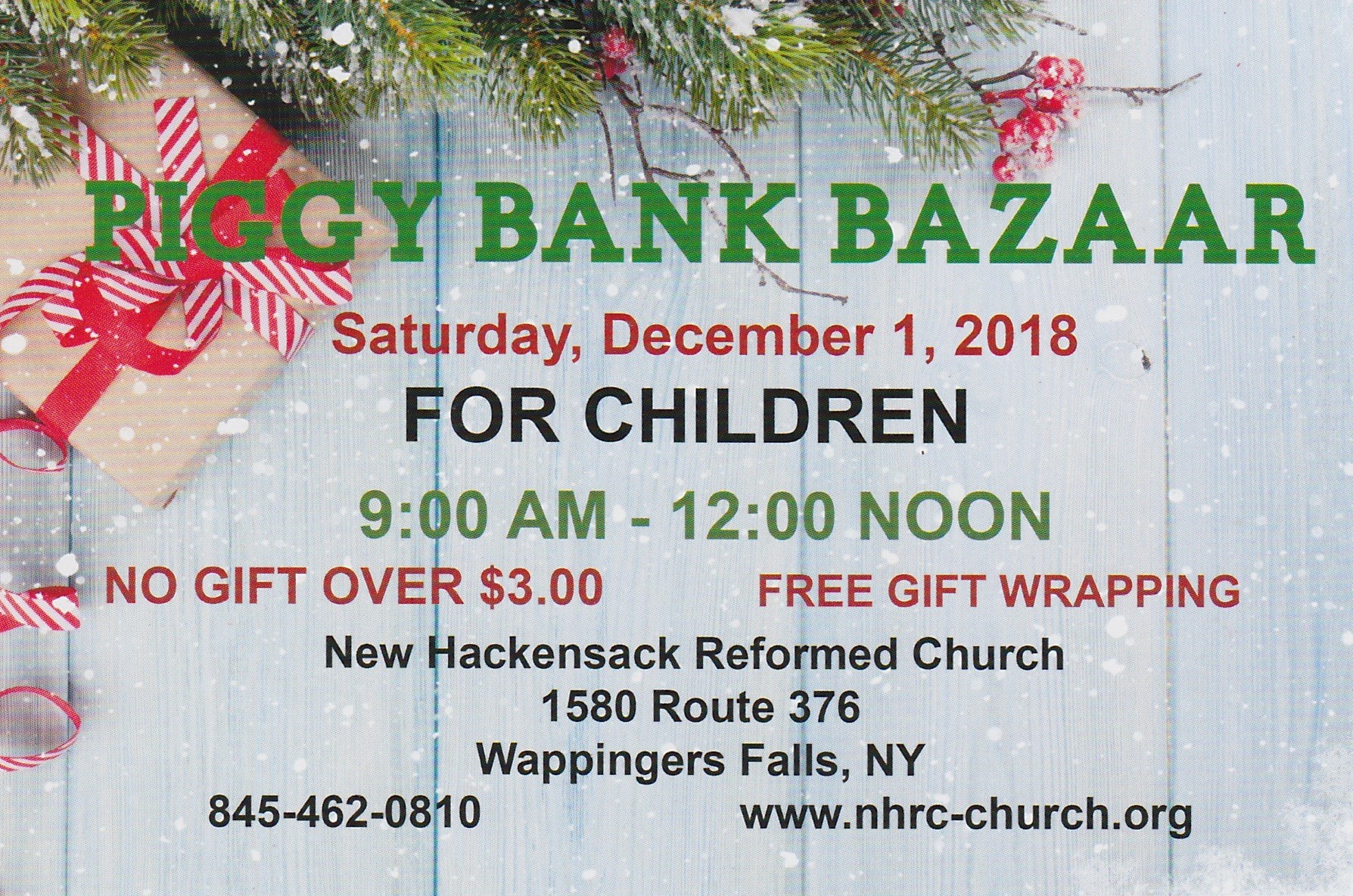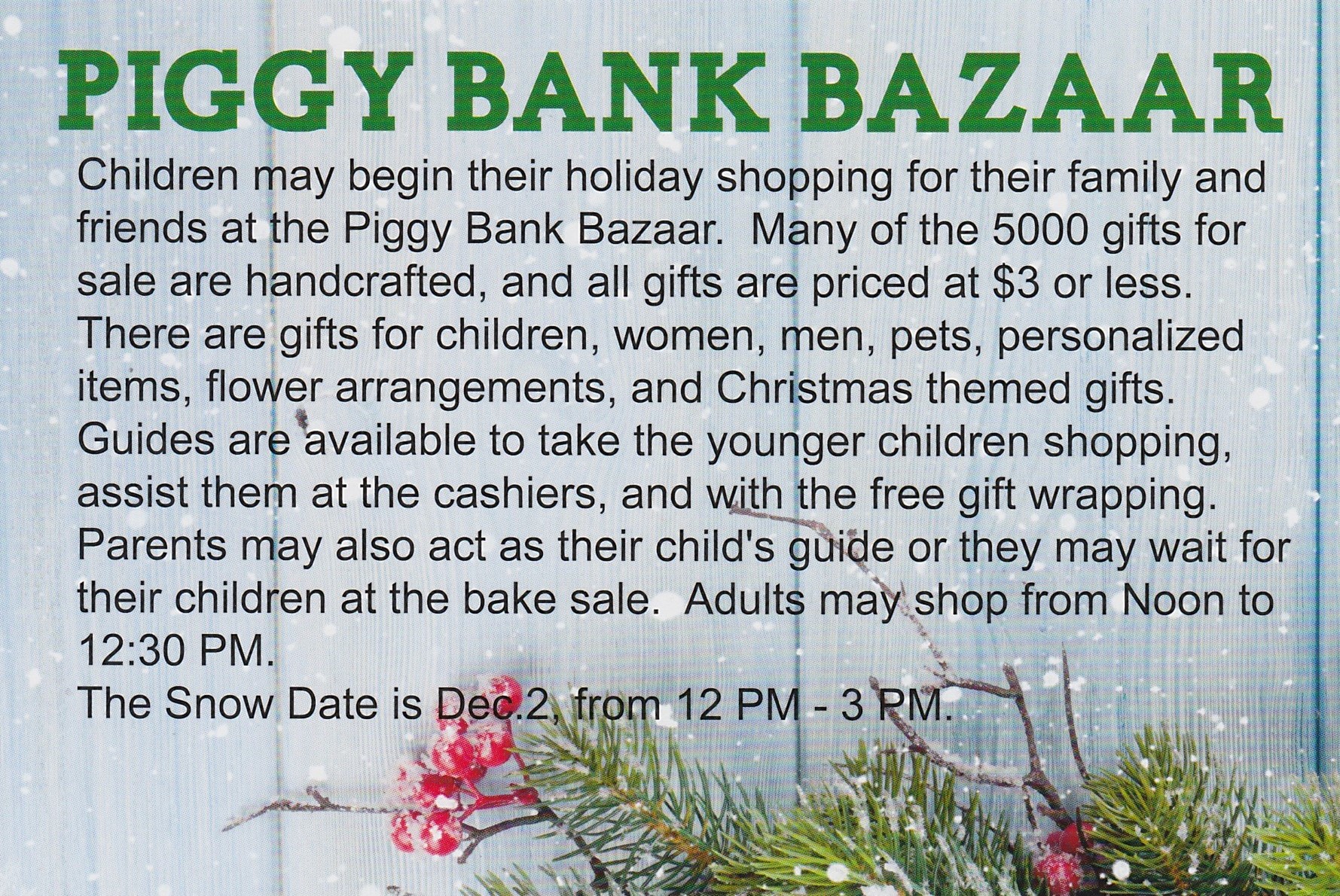 ---